READER FEEDBACK:

To J.J. Leganeur

Posted by Susan (Connie) on February 26, 2001, 2:37:54

After reading your review of Jenny's web site my impression of your effort to provide reasonable and accurage imformation about high heels was, I must admit, pleasantly surprising. I haven't read your book so it's inappropriate to say how much I personally would agree with, but your explannations in the review were encourageing. Now, having said that, I do have to take a little issue with you. It's impossible for me to know if it's a predetermined opinion of your's or my poor ability to express myself properly with the written word. My story on Jenny's site is true as you suspected. Please, ONCE AND FOR ALL, my expression of my husbands assistance in my wearing the very high heels on special occasions was to emphasize the deep companionship we enjoyed. I spent too many years, too much dedication, and too much sacrifice for my effort and achievement to be continually cheapened. I wore the correct shoes to the wedding depicted in the story, they were the shoes "I" wanted to wear.

I do not know if your book covers the emotional part of some accomplished desire, particularly on the feminine side. There is some value to the success of a dream. I didn't "need" my husband to assist me stand up, walk, or anything else in the extreme heels and he knew it. He was instumental in my perseverance and attained skill. I've lost him to cancer, but God willing, my personality will not change.

This is meant only to defend myself, not as an attack. I'm awfully tired of defending myself.
Sorry for not getting back to you sooner. I only read your message today. If you really are Susan and really are Connie and your story is true, then please also accept my sympathy over the lost of your husband.

It is apparent that some of Jenny's visitors, especially those guys, love what you did (become a permanent high-heeled woman) and have become your fans. I have always been pro-Heels and in the past, would have thought what you did was cool.

However, during research for my book, I learned all about the sacrifices that you mention. This is why I warn against permanency both in my book and on my website.

I did not intend to "cheapen" your life story. I respect the decision you made to adapt to very high heels. I understand why you did it and all that you went through. Most important, I realize that you must always wear high heels.

In regards to my comment about "inappropriateness", you wrote that you wore your "favorite, black patent leather, short pointed toe, ankle strap, and spike heel just a little over 5 1/4" which placed my size 5 1/2 feet in a beautifully severe arch" to the wedding event. I imagine them looking like extreme sexy megaheels on you. In your words, it was a predetermined opinion of mine that this act was inappropriate, based on what Marcia said for my book.

I realize that the shoe selection was your choice and that one should respect other people's choices, but there is a limit as to how far one should go. For example, what would you say if some guy mugged you? Note that it was "his" choice to mug you. Of course, you would object. Furthermore, most societies usually implement laws to prohibit people from doing such acts and label them crimes.

To a lesser degree, there are customs, manners, and etiquette to limit other acts that people should not do in certain situations. For example, what would you say if a woman attended someone's wedding wearing her normal black funeral attire? or, what if the woman wore her wedding gown to someone's funeral? While not crimes, doing these things are inappropriate.

Similarly, the pair of heels you wore to the wedding, as you described, are too sexy and inappropriate for a wedding at a church. However, the heels were appropriate for the party atomsphere at the reception.

If you simply chose a less sexy pair to wear at the church, then the woman that was offensive to you might never have complained. Instead of very sexy black patent, you could have chosen nice and pretty white leather. Instead of the most sexy short pointed toe box, you could have chosen a less sexy semi-ponted or round toe box. Instead of the most sexy spike heels, you could have chosen thicker heels that are less sexy.

You mention that your friend Sandy switched to lower heels at the reception. You also could have toted another pair of heels, the black patent ones, to wear at the reception.

This is just my opinion and it applies to all women. It hurts me to make you, Susan/Connie, try to defend yourself. So, please do not try to defend yourself. Again, I am not trying to cheapen you in any way. I think everyone makes these types of slight formality mistakes, once in a while.

Let me point out that it was also inappropriate for the woman to have openly complained to you at the wedding. That women behaved poorly and was absolutely despicable and disgraceful. She should have kept her opinion in check and expressed it to you in private after the wedding.

Thank you for telling your story on Jenny's website. It was excellent and educational to everyone. However, there were a few parts of the story that were confusing to me:


1) In paragraphs 4 through 8 of the story, Connie described a very torturous procedure that she went through so that she could never wear anything less than 4 inch heels. This included the use of "trainer" heels, like the one her husband made by sawing off the heels. She used the word "sufferance". What made you and your husband devise such methods for you to use?

Sometimes, young women end up the same way (without wanting to) simply by overusing high heels or wearing only shoes with very high heels for a few years. It seemed to me that your husband and you did a lot of planning. You also seemed to understand what ankle straps could do and have shoes with round toes. So, I wonder why you did not simply try to wear a pair high heels with round toes and ankle straps (or a pair of high heel boots with round toes and tight ankles) all of the time for a year or two (at most)? It would have been an almost painless process and achieved the same results for you.

If you do not answer this question, my guess is that your husband and you were in a rush. Did you think or hope that your techniques would have taken only days or weeks to form permanent high heel feet, instead of the months that it actually took?


2) In paragraph 6 of the story, Connie wrote "... I became increasingly more accustomed to the ever higher heels, forming the bend of my toes, arch of my feet, and bend of my ankles". I have seen permanent extreme high arches and ankles permanently locked in the high heel position, as well as balls of feet formed permanently for high heel shoes. However, I am not sure what you mean by "bend of my toes". Are your toes permanently bent? If so, which toes and how exactly are they bent? Do the balls of your feet consist only of toes?


3) You seem to contradict yourself or what Connie wrote. In your posting to me, you wrote 'I didn't "need" my husband to assist me stand up, walk, or anything else in the extreme heels and he knew it.' However, in paragraph 12 of the story, Connie wrote "Mike immediately got right behind me, held me firmly at the waist, and practically carried me up the aisle with me walking only on the ball of my feet. The very high height of the heel places the heel tip very close to the sole of the shoe. With a slope this steep, if I allow the heels to touch the floor the shoe will tend to fall over backward."

In paragraph 21 of the story, Connie wrote "The steps were full of waiting people so we had to go down the wheel chair ramp at the side of the church. It was just steep enough to pitch me forward off balance requiring short quick steps with my ankles arched nearly to their limit as we moved along with the crowd." What did you do when you had to walk down sidewalks and other outdoor surfaces that were steeper than this wheel chair ramp in your extreme heels?

As you wrote, my comments are not meant as an attack either. I still believe that Connie's story is true and my gut feelings tell me that you are Connie. So, I hope that you can simply answer these questions and clarify the confusion.
Updated on April 8, 2001:
Susan responded in Jenny's Discussion Forum that she has asked Jenny to delete her ("Connie's") story. I sent her the following email:



Dear Susan,

I have seen the reply that you posted on Jenny's Discussion Forum on April 7, 2001. Please do not delete your ("Connie's") story. I think that would be a big mistake and terrible to do. What your husband and you did was fascinating and your writing about it was truly unique. I think that Tom ("Mike") would not want you to delete it either.

I can not imagine anyone making up such a story. Based on everything I know about the subject of high heels, your story fits all of the parameters of being a true story. Your story belongs in the historical records about high heels, even if it was not true.

When I was working on my book, it was really disturbing to find that older women who spent countless hours in high heels never wrote about their stories. I think other women, especially girls and young women, would be interested in reading their autobiographical stories. It certainly would be more educational than reading romance novels.

Regards, J.J.
Added on April 21, 2002:

I believe the following email was sent to me in response to what I wrote about permanently shortened calf muscles and Achilles tendons (known in medical terms as "ankle equinus") on my Problems web pages.
READER FEEDBACK:

Hello J.

At that time I put on my first pair of high heeled shoes which my dad bought me for my new summer-dress. I loved them a lot, and since that day, I`ve been in my heels more or less permanently. After some days I felt pain in my achilles-scene, but I didn`t care, I just wore them all the time. The toes were pushed into the middle of my feet, and I guess since I was only 13 years old, my feet was not grown finished, so I kind of grew into high heels. Now, 22 years later, I`m stuck in my heels for the rest of my life. I can`t flatten my foot anymore. My toes are permanently bent into the middle of the feet, as in all lady`s pumps. But it`s ok, I`v got used to it. And I like the thought that I can wear nothing else than heels. Even in the shower I have to use them.

I really like your site, and i think it's unique on the internet. before visiting it I thought i am the only woman stuck in high heels for all her life.

I read about this woman - connie, but i can't find her story, maybe you can help me because i seriously want to read about her. what she precise did to be permanently high heeled woman ?

And a little question, if you can help me... I need to wear at least 3.5 inch high heels shoes for walking, i can't wear anything lower. i want to be unable to walk without 4.5 inch heels. For the last year i try to do it. i wear only 4 inch and 5 inch heels inside and outside all day, but with no success. i can still walking easly in my 3.5 heels shoes. How can i achieve this degree for permanent ?

If it can help, a little details about me. 5.1 feet tall shoe size - 7.5

byw, I wearing high heels more then 20 years and i love it. i didn't have any back problems or other body problems because it.

I.K. - 15 Apr 2002
Dear Ilse,

[ I read about this woman - connie, but i can't find her story, maybe you can help me because i seriously want to read about her. what she precise did to be permanently high heeled woman ? ]

Susan (a.k.a Connie) asked Jenny Thompson to delete her story after I questioned some comments that she wrote later on that contradicted her original story and did not fall within boundary of truth. (When it comes to high heels, I know where the truth starts and ends.) Furthermore, Susan never provided a shred of proof about anything she wrote.

However, her original story did fall within the boundary of what I know to be the truth or possible truth. It mentioned something about special training shoes that her husband made for her that may be of interest as well as shocking! If you still want to read her story, you can try to email Jenny Thompson for it.

Regards,
J.J. - April 21, 2002

P.S. - (December 16, 2005) - A few days ago, I was surfing the Internet and found an archived copy of Jenny's web site. Some adult-related web site company has resurrected an old copy of Jenny's web site, that was hosted by Netdump and contains a 1998 version of Connie's (or Susan's) story. The story describes at least two specific things that Susan did to become a permanent 4-inch high heeled woman faster.

Once again, note that the activities Susan and her husband did fit within the parameters of BDSM activities and even, bizarre bondage. (I know that Susan disagrees with this because she feels that it was all her idea, but it does not matter who came up with the ideas.) There are real BDSM groups and couples engaged in hard or heavy BDSM activities including wearing high heels 24x7, all or most of the time. Each of these BDSM groups and couples usually have male master(s), who like high heels (especially, ultra-high heels) very much, and female (including male-to-female transsexual) submissive(s), who want punishment and/or to please their master at any cost.

The URL for the archived copy of Connie's (or Susan's) story is http://netdump.com/users/jenny/stories.htm#life

P.S. #2 - (May 28, 2007) - Here is another URL for an archived copy of Jenny's web site (with no banners) http://internetdump.com/users/jenny/home.htm
and for an archived copy of Connie's (or Susan's) story (with no banners) http://internetdump.com/users/jenny/stories.htm


---
Added on July 31, 2005:


Laurieheels

I previously wrote that it would be helpful if some women kept a diary about their experiences with high heels. One lady using the login name "laurieheels" did just that. Her 52 weekly entries were placed in Jenny's Shoes and Heels Discussion Forum (that have since rolled-off) and HighHeel meeting place message board under the "Ultra High Heels and other fetish things" category. Note that she posted some convincing photos of herself so that we know that she is a real person.

From this journal, one can see that wearing high heels up to 5+ inches high does not have be a bad experience. Instead, it can be good experience or at least an enjoyable, fun or interesting one.


---
Mel & Peachy Shoe Store

A couple of weeks ago, the guy using the login name Firefox posted an entry in Jenny's Shoes and Heels Discussion Forum about Mel (short for Melanie) and her new Peachy Shoes store in Bristol, United Kingdom. There is a photo of Mel wearing a pair of 6 inch high heel shoes without platforms. Also, Mel wrote "those shoes have become a permanent fixture to my feet in the shop" on July 5, 2005 and has a prior entry in HighHeel meeting place message board under the "Ultra High Heels and other fetish things" category titled "my first time in 6 inches" on June 10, 2005 .

I am mentioning this because it is a rare situation. There are not many real women, who have the desire, willingness, ability to walk well in 6 inch high heels without platforms and actually do it. Also, those who do are usually involved in living a high heel fetish lifestyle and wear their 6 inch heels mainly in private and semi-private BDSM environments. In this case, Mel is wearing her 6 inch high heels for everyone to see.

Furthermore, Mel's dad (who uses the login name HEELFAN in both of these message boards) indicated that Mel has small size 3 UK (equivalent to size 5 US) feet. This makes Mel even more of a rare young woman, who is reported to be 20 years old.

In my book and book excerpt (on this website), you can find written "for foot sizes 5 to 7 US, the 5 inch heel is the absolute maximum height for normal everyday walking (or the normal amount of walking an average person does everyday). 5 inch heels are like super high heels for petite women. For foot sizes 7 1/2 to 9 1/2 US, the 6 inch heel is the absolute maximum height for normal everyday walking. For foot sizes 10 US or larger , the 7 inch heel is usually the maximum height for normal everyday walking. However, this applies to people with average sized toes only."

I have never seen anyone with such small feet size ever walk more than a few steps in 6 inch high heels without platforms. However, there has long been an explanation for how it is possible. See the Creating a Highheeled Women web site at http://www.newagequest.com/HH/moreheels.html.

Nevertheless, the feet must be flexed about 90 degrees downwards, which is the same position while doing pointe ballet. In the picture, Mel's feet do appear to be incredibly flexed about 90 degrees or more downwards. For certain, it is more difficult to walk in those 6 inch high heel shoes than in any 5 inch high heels. So, don't miss the opportunity to check this out.


---
This report was written by J.J. Leganeur, author of All About Wearing High Heels .
---

Note that while Jenny keeps the material that she posts on her website free of porno and other filth, some of the banner ads and links may be R - rated and not suitable for those under 18 years old.

For those who have not seen "Jenny's High Stiletto Heels" website and want to, it can be found using most search engines, at the URL address http://come.to/high-heels or via the Jenny Fan Club. Also, a German translation of "Jenny's High Stiletto Heels" can be found at http://mitglied.tripod.de/stoeckel_freundin/jenny/wearing.html


Page 1 2
---
Home | Contents | Book Excerpt | Reader Feedback | Order Book | |
Bizarre | Book Reviews | Cosmetic Surgery | Custom Shoes | Dancing | Doctors | Dr. Vaughan | eCrooks | Footbinding | Full Figured | Height & Shoe Size | Jenny's | Links | Movies | Museums | News | Observer | Pick | Problems | Q & A | Quotes | Repair | Shopping | Songs | Stars
Styles & People : Fashion Wear - Club Wear - Fetish Wear - Stiletto


---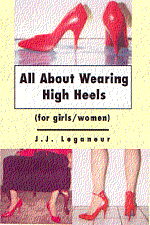 ---
This page was last edited on May 28, 2007.
Comments? Send email to: jjleganeur@yahoo.com