A Review of "Jenny's High Stiletto Heels" Website


---
Page 1 2



Updated on May 28, 2007 - reply to Ilse on Page 2
Updated on December 16, 2005 - reply to Ilse on Page 2
Added on April 21, 2002 - reply to Ilse on Page 2
Updated on April 8, 2001 - reply to Susan ("Connie") on Page 2
Added on March 24, 2001 - reply to Susan ("Connie") on Page 2


---

We know that some of you would like to see some pictures. However, our hope is for this web site to become an informational site rather than a picture gallery. So, the policy is not to have any pictures, except for the book cover and those that become absolutely necessary in conveying important information.

Fortunately, there now appears to be an answer (albeit a partial one) to this dilemma for all involved. It came in the form of a request to review the website called "Jenny's High Stiletto Heels". There are enough pictures throughout Jenny's website to satisfy most high heel fans' visual hunger. So, if you want pictures, Jenny's website is the place to go.

Furthermore, Jenny's website is among the top high heel fetish websites. Just as there are football fans, baseball fans, soccer fans, movies fans, bird watching fans, there are thousands (and quite possibly, millions) of high heel fans around the world. This includes not only men, but boys, girls, and women, too. Those that have Internet capability and knowledge have flocked to Jenny's website, which is loaded with stuff on high heels.

There is a message board that gives the website the look and feel of a club website and an exceptional one at that. Besides the pictures and message board, there is a chat link, a special public picture posting server link, other links, mailing list, and more.

Jenny's website has attracted over 700,000 visits since its inception, about two years ago. It now averages 1000-2000 hits a day, which is simply extraordinary for a specialized website by any standards.

---

For those who are old fans of Jenny's site, you probably noticed the new sponsor page that Jenny posted this past month (December 2000). I believe that I am responsible, at least in part for this change. If you don't like it, blame me. If you think it is a great idea, then visit the shoe stores for me.

I was so impressed with the magnitude of Jenny's site the first few times I visited it, that I started to wonder if Jenny made any money from it. Her answer to me was "nothing". It seems that Jenny did it all to serve us. Now that I have had a chance to visit most of the other sites in the Top 50 High Heel Fetish sites. In my opinion, Jenny's site is indeed one of the best sites and the best for overall content.

---

PICTURES -

In regards to the pictures, there are several major categories including Classic Pics, Office Pics, Fun, Debbie, Jane, 1950's, Skymaster, Rhonda, and Sounds/Animations. There are also pictures in most other categories.

The Classic Pics is a very special category because of the introduction Jenny gives. Those who might quickly skip by or ignore this page will see about 110 breathtaking ladies in very high heels. Any one of them could be a dream date. However, Jenny's introduction reveals her ability to alter the look of high heels and faces, too. Even knowing that the pictures may have been altered, I cannot tell whether the vast majority of pictures have been altered or not. Only one or two pictures have heels that appear (to my sharp eyes) to have possibly been over-extended a bit.

This Classic pics gallery left me with the distinct impression that Jenny is very artistic, as well as richly endowed with cleverness and trickery. If I was a talent agent (that I wish not to be), I know exactly what I would be trying to do with Jenny now.

In the Office pics, you find about a dozen pictures of pretty ladies in business outfits. Jenny also gives advice on how to dress in the business environment.

The Fun category contains about 20 pictures including some leather, PVC, girlfriend partners, and one oh-what-a-bombshell last picture. A "Crunch!" link leads to Crush and Splinter pics. If you collected model cars as a kid, you will not want to see these pictures. If you look at them, imagine what these girls can do to some body parts.

Debbie's page is subdivided into many other pages with many pictures. There are 25 pictures of Debbie in business outfits. She would fit nicely inside any business environment. There are 18 more outdoor pictures and 20 more in casual clothes. How about those oxfords? I never thought they went with casual clothes, just business slacks. Then, there are 24 more pictures in pretty party dresses. I think the Flowing Cheungsams are Debby's prettiest pictures.

In Debbie's FF Stocking and Finishing Touches pages, Jenny and Debbie talk about hose. However, they mention nothing about color. In my opinion, hose color is one of the most important factors and can greatly influence the look of high heels. The color of hosiery is like the color of icing on top of a cake.

There is also a Debbie talks to Jenny discussion page. It is interesting what Debbie said about Hong Kong because it is a heavily populated area. In general, high heels are more popular in cities and urban life than in rural country areas, especially in the U.S.A..

Jane's pictures are odd. I thought it might be due to the position of her head, but even her empty shoes repelled me. However, the picture of with Jane stepping on two rocks is quite nice.

The pictures of Skymaster's wife are very pretty. His remarks about picture resolution are unimportant at this time because of image compression and different download times for various modem speeds. However, in a few more years with faster speeds, maybe all of us will be want better quality.

There are 30 pictures in the 1950's gallery. Jenny mentioned touching up a few of the heels, but you will not be able to tell. My best guess is that they had to be black colored heels.

There are 10 pictures of Rhonda. The high heels make her look very cute.

Jenny's animation and sounds page gives you 5 legs and heels in motion and with the sounds. I am not sure which is better, the animation or the sound.

---

STORIES -

There are 12 stories and as you might guess, involving high heels. There is no indication as to which ones are true stories. So, let me guess.

The first story is about Jenny's childhood. It seems like Jenny was enamored with her mum in high heels. Very touching. How's mum doing?

The second story is about Jenny's love experience with Steve, triggered by 5" heel pumps (courts), at what became their new house. Also, Jenny teases a real estate agent. Once again, displaying trickery. If the pictures are of Jenny, then she's a very pretty lass. However, what's with that eye thing?

The third story by Pheels is about Phil and Caroline. Is it dreaming with eyes wide shut or did Phil forget something?

The fourth story also by Pheels is about Phil and Sophie. This story makes you wonder if a person skilled in walking in high heels and then, suffers amnesia would remember how to walk in high heels.

The fifth story by Mwhh is about Mona Lisa's smile. David meets a flight attendant named Lisa, who likes wearing pumps with 5" heels. Is the answer to the quiz that Mona Lisa smiled "because of the way her lover treated her" and "Graciously, courteously and always with love and respect"? What if Mona Lisa smiled just because the artist paid her to? Also, what is it about a dude in heels that is appealing?

The sixth story by John is about a first anniversary. A delivery man delivers shoes to Miss Kristal Bronson from Frederick's of Hollywood. Then, he boldly tells Miss Bronson a story about his wife buying a pair of 6 inch heel blue powder sandals from Frederick's, too. Yes, this one is just loaded with minute details.

The seventh story by Connie reviews her 28 years of marriage and strictly wearing only very high heels. I got the sense that this is a real true story and that it coincides with everything Marcia said about "devoted high heel wearers" for my book. This includes the inappropriateness of wearing very high heels to weddings and in other public places. Doing so can be asking for trouble and usually, from women who can not wear them. Connie should of wore a white or light colored pair with thicker heels to the wedding.

This was a story I knew Marcia would like to read. It was both new and interesting to Marcia and myself as to what Connie said about walking outdoors with the assistance of her husband Mike. Seems like Connie, her high heels, and Mike are quite a unique team.

The eighth story is by Michael, who was a foreigner in China. This is another story that I think was a real personal experience.

The ninth story by Avery Boseman is about office games. This one is about changing hose and heels throughout the day by Sally and her secretary Diana checking her out all of the time. Would you like working for a woman who knows how to dress like one (and may peep as well)?

The tenth story by Shirley is about her meeting with Maria, whom she met on the Internet, in London. It is lesbian tale with Shirley in high heel boots.

The eleventh story by Matt is about fun in the office. This is another story that I think was based on a real personal experience. Anyone need help breaking a heel?

The twelfth story by Heel-lover is about Jane, who is 30 years old and still single. Jane finally manages to buy a pair of high heels, giving her confidence and power. Then Jane uses her heels to seduce David/John, who turn out to be a dude with a secret.

This is a quite a collection of short stories. I enjoyed reading them.

---

HISTORY -

There is a history section about high heels that is fairly comprehensive and has over 30 pictures of old high heels shoes. For serious history buffs, the best source about the history of shoes and high heels that I have seen to date is a little, chunky 507-page book titled Shoe by Linda O'Keeffe. However, Jenny's stuff is free and more than enough information for everyone else.

---

WEARING -

The section on Wearing or How to Wear High Heels Successfully discusses many of the topics in my book. So, there is a lot of overlap.

In regards to very important Pro's and Con's and Shoe Selection, Jenny makes some similar points that Marcia made for my book. I am glad that there are no contradictions.

Jenny warns not to buy cheap shoes. We agree. Avoid poor quality high heel shoes at all cost. Besides, most cheap shoes look cheap.

Jenny also advises to test for flimsy heels. Marcia said flimsy heels are rare, but do happen with spike heels that are usually narrow and made by manufacturers that do not know what they are doing. So, wiggle test those heels before wearing them. Anyone, who breaks a high heel while walking, can also injure her foot, ankle or knee in such a way that it is never the same again.

There is a X-ray picture that is worth looking at. Note that even with a high arch, none of the bones are bent at all. It is the ligaments and connective tissues, mentioned throughout my book, that adjust in their size and shapes.

In regards to Standing and Sitting, there are pictures of Christina Applegate that I love. She is one of my favorite stars in high heels. Jenny gives extremely detailed instructions on how to stand up properly in high heels. There is a rocking exercise to stretch the calf muscles, shown with Christina in pretty animation.

(In the our book excerpt, as well as throughout our book, we warn about the need to regularly stretch the calf muscles and Achilles tendons out. The more one wears high heels, the more important it is to do this to help avoid getting shortened calf muscles and Achilles tendons.)

In regards to Training Exercises, Jenny suggests several routine exercises. There is an animated picture of rocking the heel from side to side. I have never seen anyone do this in the U.S.A.. It may be related to English rock-and-roll.

In regards to Walking Techniques, Jenny describes how to walk with extremely detailed instructions. Perhaps, a bit too confusing to follow.

There is mention about Shoe Slipping, Toe Jamming, Twisting, Tottering, and Shoe Deterioration. These are all related to misfit, poorly constructed or worn out shoes. In regards to Sole Pressure, Jenny mentions using foot pads. (In our book excerpt, foot cushions or platform soles are needed for outdoor wear in order to protect the ball of the foot.)

In regards to Running, Jenny provides instructions on running and walking fast in high heels. What about using high heel sneakers and those Easy Spirit pumps that they advertise women basketball players playing in for hours? Then, Jenny give some tips on how to turn, crouch, walking on hills, stairs, escalators, cracks and grates.

Jenny gives some very detailed instructions on how to drive in high heels. I have not heard of any current laws against driving in high heels. How sensible is it to allow people to drive in 6 inch stilettos or those 7 1/2 inch heels with 3 inch platforms?

Jenny got a web friend to provide some tips for dancing in heels. I recently came across a website with the most beautiful dancing shoes with heels. (Trying to swap links with them.)

There are some words about different walking surfaces and alternating heel height. Then, there are instruction in how to walk in very high heels. What Jenny provides eerily reminds me of the "Creating a Highheeled Woman" website that I reviewed a few months ago. In matter of fact, Jenny links to that website. Jenny also shows some other medieval torture devices.

Jenny advises those addicted to high heels and advancing in years to coming down gradually (if they want to come to down). Makes more sense than trying to come down abruptly or all at once. Unfortunately, as mentioned in my book, there is also a point of no return for each heel height that a person can permanently adapt to. This depends on many factors and whether or not one crossed the point of no return.

This best I can say about Jenny's section on Walking is that there are no apparent contradictions with any of the material in my book. Most important are the con's, since most of us already know very well what all of the pro's are.

---

CARING -

There is a shoe caring page that redirects you to another site created by Jenny called "Aesthetic High Heel Men's Fashion" at http://nettrash.com/users/fashiongirl/modify.htm It is titled Shoe Modication and Maintenance and provides instruction on how to stretch shoes to an extreme level (increase shoes by 2-3 shoe sizes) that I have never seen nor heard of before. If you try it and damage your shoes, please don't blame me.

---

SURVEY -

There is a survey that is temporarily closed for various technical reasons. It covers lots of questions in terms of wearing and admiring high heels, as well as rating Jenny's site.

---

VIEWS -

There is a section on "Other People's Perspective on Heels". The first item was a long interview (via email ping-pong) between Jenny and 27-years old Helen in the U.K.. They mentioned something about rocking the heel from side to side, that (once again) I have never seen anyone do in the U.S.A.. The rest of the interview was so-so, until near the end. There was an incident "at University" and Helen's nearly 6" inch heels that really made me laugh. Read it for yourself.

The second item is a bio from 24-years old Mary in the U.K., who has a Master's Degree in Civil Engineering, a personal website, and owns mostly shoes with 3.5 to 5 inch heels. The third item is a magazine article that mentions stiletto heels are coming back into fashion in the winter (of 19??). It also mentions (the late famed fashion editor) Liz Tilberis wearing stiletto heels in July at shows in Paris.

The fourth item is another article by Emily Swanson for Fantasy Fashion Digest. It seems good, but is short. Emily gives a personal tip for using two-sided sticky masking tape inside the shoe where the ball of the foot rest. Some tip, huh? What does it do to panty-hose? Who wants sticky shoes, esp. in the hot summer time? The last item is a recommendation by Jenny about a German Newsgroup site.

---

WHY? -

The section on "Why?" is a philosophical discussion about heels, opening with a nice poem "Of Life and Heels" by Jenny. A scientist (or more specifically, a psychologist or brain scientist) tries to to relate heels to our brains. A very interesting point is made about high heel addicts and their need for higher and higher heels.

Next, an artist tries. Like the artist, I was fascinated by the image of Helena by the pool, so much that I could not comprehend anything the artist wrote. Next, there are thoughts from a shoemaker (actually shoe designer Manolo Blahnik). His most important point came last. "The shoe is sex." Finally, Jenny, who hasn't put in her 20 years in heels yet, seems to reserve her right to write once she does.

I can add plenty of my own remarks, going so far to make all of this seem preposterous and silly. Trying to rationalize the meaning and relationships between high heels and men and women can easily make heels out be more than what they are.

So, I will simply state the basic fundamental truth about high heels. High heels shoes are simply footwear, but very sexy ones. They are equivalent to what mini-skirts or better yet, bikinis are for covering the female lower anatomy.

---

MESSAGE BOARD -

On Jenny's Message Board, one called Achilles trashes my book for being too negative on high heels. I detest this individual and hereby challenge Achilles to a sword fight.

On second thought, this reviewer is probably a 100% high heel lover, so it is quite understandable how he/she got upset with some of the content in the book. The book is titled "All About", so one should not expect to get just the pro's. Actually, Achilles may have given a fair assessment of the book.

Although I am pro-Heels, my book takes a neutral and (as Achilles sensed) a journalistic styled approach to high heels. Also, most of the words were Marcia's, not mine. (Now, I am not trying to blame her. Since, as I mentioned in my book, I specifically asked Marcia about all the con's that she knew.)

The con's can not be stressed enough because if a person develops a serious foot problem, it can easily take away her ability to wear high heels ever again. Now, who wants that to happen to anyone? The number of high heel patients treated by podiatrists every year has been staggering. Moreover, it is a fact that no matter how much these podiatrists advise people not to wear heels over 2 inches or so, millions of people still wear high heels.

The negative information contained in my book is fundamental knowledge for avoiding some very common foot problems that many high heel wearers get, year after year. Every high heel wearer should learn and understand, as much as possible, what these problems are, how they happen, and what (if anything) they can do to avoid them. So, if they choose to wear high heels, they can increase their chances of avoiding problems and hopefully, keep their ability to wear high heels throughout their entire lifetime.

Some women stop wearing heels in their 20's, 30's, and 40's only because they developed foot problems earlier on. I am sure many of these women would love to be able to wear high heels again. Perhaps, we can help prevent others from meeting the same fate.

There is one more important point to make. There is much similarity between wearing high heels and ballet dancing on pointe. However, in ballet dancing on pointe, girls are taught by an instructor and learn slowly over time with lots of practice. While in most cases, girls (all around the world) have to learn how to wear high heels on their own and are left to face all of the many pitfalls without any instructions and warnings.

If readers of my book become a bit disillusioned about high heels for a while, so be it. I am truly sorry. Just hope they can end up being able to wear high heels for a long, long, long time.

If you want to discuss anything about high heels, click here to visit Jenny's Message Board . There are a variety of people there. Some are very knowledgeable and some are not.

---
Page 1 2


---
Home | Contents | Book Excerpt | Reader Feedback | Order Book | |
Bizarre | Book Reviews | Cosmetic Surgery | Custom Shoes | Dancing | Doctors | Dr. Vaughan | eCrooks | Footbinding | Full Figured | Height & Shoe Size | Jenny's | Links | Movies | Museums | News | Observer | Pick | Problems | Q & A | Quotes | Repair | Shopping | Songs | Stars
Styles & People : Fashion Wear - Club Wear - Fetish Wear - Stiletto


---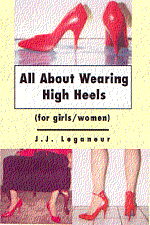 ---
This page was last edited on May 28, 2007.
Comments? Send email to: jjleganeur@yahoo.com